Virology
Program Overview
At the CDI, we recognize the critical need for comprehensive research and expertise in the field of virology and have a dedicated core facility for advancing understanding and combating viral threats.
Virology Core's Mission
The Virology Core mission is to discover and develop a next generation of antiviral drugs to treat COVID-19 (SARS-CoV-2), other coronaviruses, and emerging viral diseases with pandemic potential. Led by a team of distinguished virologists, our Virology Core offers a wide range of services and state-of-the-art facilities to support researchers, faculty, and external academic/commercial partners in their quest to unravel the complexities of viral infections. Equipped with cutting-edge technologies and methodologies, our core provides a collaborative environment for interdisciplinary virology research. Whether you require assistance with viral culture and propagation, genomic sequencing, antigenic characterization, or studying viral pathogenesis, our team of experts stands ready to assist you. We offer tailored consultations, comprehensive training, and access to advanced instrumentation, empowering you to conduct groundbreaking virological studies.
Features/Capabilities
The Virology Core has expertise in whole-cell based assays to screen antiviral leads in 96 and 384 well formats in a variety of mammalian cell lines and infected with different viruses (including both SARS-CoV-2 and MERS-CoV). The availability of biosafety containment facilities (BSL3) provide the opportunities for testing compounds against live viruses.
The main assays currently available are
Medium - high throughput whole cell assays for evaluation of antiviral activity in 96- and 384-well format, using bioluminescent and fluorescent endpoint readout as well high content imaging (capability to screen ~ 500-1000 compounds / week).
Inhibitory concentration 50% (IC50).
Antiviral potency and cytotoxicity (EC50 & CC50).
Microneutralization assays.
Automated viral infectivity/titer assays based on plaque, fluorescence and single infected cells in 24-, 96- and 384-well plates.
Morphological quantification of plaque in a 24-well plate.
Plaque purification assay.
Viral nucleic acid quantification (RT-qPCR).
Instruments / Equipment
BioTek EL406 Washer Dispenser (cell seeding and immunostaining).
Nikon Ti2 Inverted phase contrast microscope (tissue culture).
TECAN D300e digital dispenser (compound dispensing).
Cellink I.DOT non-contact liquid handler (compound dispensing).
Integra Biosciences Viaflow 384 electronic dispenser (viral infection, cells fixation).
Hamilton STARlet automated liquid handler (high-throughput screening, virus infection, reagent dispensing).
Tecan Infinite 200 Pro (bioluminescent readout).
Nexcelom Celigo Image Cytometer (high content imaging and fluorescent endpoint readout).
BioTek Cytation C10 Confocal Imaging Reader (high content imaging and fluorescent endpoint readout).
QIAcube HT (automated high-throughput nucleic acid purification in 96-well format).
AriaMx Real-time PCR System Agilent (fully integrated system for qPCR amplification, detection and data analysis).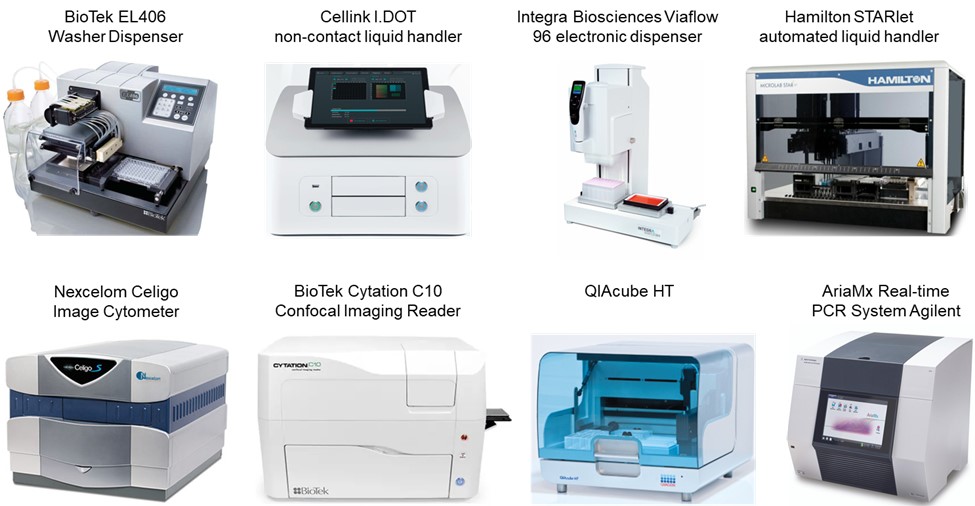 Key Staff/Faculty
Risha Rasheed
Assistant Research Associate
risha.rasheed@hmh-cdi.org
Engy Milik
Sr Rsrch Tech Infect Disease
engy.milik@hmh-cdi.org
Kira Goldgirsh
Sr Research Tech JTCC
kira.goldgirsh@hmh-cdi.org
Abdeldjalil Madani, Ph.D.
Sr. Research Associate
abdeldjalil.madani@hmhn.org
Vijeta Sharma, Ph.D.
Senior Research Associate, Infectious Diseases
vijeta.sharma@hmh-cdi.org
Ching-Wen Chang, Ph.D.
Supervisor, Research Assistant Member, Infectious Diseases
MAVDA, Virology Coordinator
chingwen.chang@hmh-cdi.org
Nadine Alvarez, Ph.D.
Supervisor, Research Assistant Member, Infectious Diseases
nadine.alvarez@hmh-cdi.org
Steven Park, BS
Director, Laboratory Support Operations, CDI
Co-Administrative Director, Shared Resources, Georgetown Lombardi Comprehensive Cancer Center
Co-Director, Animal Models Rodent Shared Resource, Georgetown Lombardi Comprehensive Cancer Center
Steven.Park@hmh-cdi.org
David Perlin, Ph.D.
Lead Investigator
MAVDA Project/Core Leader
Chief Scientific Officer and Professor
Center for Discovery and Innovation
Hackensack Meridian School of Medicine
Georgetown University School of Medicine