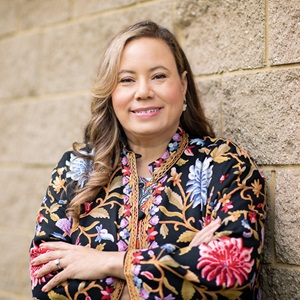 Lisa Carter-Bawa remembers how her patients could have been better. With improved conditions and food access - more favorable factors for staying healthy - they'd have a better chance to avoid a whole host of diseases, Carter-Bawa, Ph.D., recalls now.
As part of her nurse practitioner practice in Louisville, Ky., Carter-Bawa would see diseases which could have been prevented or at least better controlled due to limited access to healthy foods without supermarkets, neighborhoods; where there was little space to exercise; and environments where there were few doctors and little attention to preventive care.
It's part of the reason Carter-Bawa, already a seasoned clinician, went back to school for her Ph.D. - so that she could address the root causes of the health outcomes she was seeing and treating.
"I just remember thinking, there was so much more I wanted to do at the population level," she said recently.
One of the newest scientist arrivals to the Hackensack Meridian Center for Discovery and Innovation (CDI) won't be observing germs under a microscope, like many of the other experts at the institution. Instead, Carter-Bawa is going to direct the new Cancer Prevention Precision Control Institute (CPPCI) at the CDI - and she will be bringing her years of nursing expertise and behavioral research at the Memorial Sloan Kettering Cancer Center (MSK) to impact patients' lives almost immediately across HMH, by looking at medicine through the vantage point of the patient.
It's a mission strengthening the "bench to bedside" ethos of the CDI.
"Lisa is bringing a terrific new, real-time focus to impacting clinical care," said David Perlin, Ph.D., the chief scientific officer and the executive vice president of the CDI. "Her work has important implications for improving clinical outcomes for patients with cancer."
For the Patients
"My research and clinical experience have taught me that if we do not understand the decision from the perspective of the individual making that decision, we have missed the whole point," she said recently, from her space at the CDI.
Carter-Bawa is a caregiver, first and foremost. Her education was in her hometown of Louisville, first as an undergraduate at Spalding University, and then earning her MSN degree from the University of Louisville, where she also started her clinical career (at the University of Louisville Hospital). After several clinical positions in the Louisville area, and her stint owning the aforementioned nurse practitioner practice, she realized she craved further impact - specifically through research and the academic arena. She earned her Ph.D. in nursing science at the University of Louisville in 2013 and completed a postdoctoral fellowship in behavioral oncology at Indiana University
Her most recent experience at MSK was as the Associate Research Director of the Tobacco Research Program - but she was also an Associate Attending Behavioral Scientist who practiced as a nurse practitioner treating patients one full day per week.
The research at MSK was focused on tobacco-related cancers, mostly smoking. Carter-Bawa studied lung-cancer screening dynamics - and developed better ways to engage patients who belong to a unique population, in terms of cancer risks. There is a great deal of stigma around smoking. This has led to delays in seeking healthcare with concerning symptoms, lack of engagement with the healthcare system, lack of shared discussions around screening, and screening adherence issues, according to Carter-Bawa.
"Patients worry about being blamed for having smoked and ultimately this impacts patient outcomes because of the stigma and implicit bias that may exist," she said.
Her nursing prowess, and the research which has broadened its impact, has garnered one of her most cherished distinctions, in 2018: being named a fellow of the American Academy of Nursing.
To the CDI
The CDI is a unique opportunity to expand the scope of her research, according to Carter-Bawa.
"Coming to CDI offers the opportunity to broaden the work of my laboratory," she said. "Prior work was focused more narrowly on tobacco-related research, which is incredibly important, but it isn't the only thing that is important when thinking more broadly about population science and cancer prevention and control specifically."
Her research has focused on patient-clinician communication and shared decision-making in complex cancer screening. As such, it's included: conceptual model development, instrument development to measure various factors that influence health behavior, tailored intervention development, intervention trials, and implementation science.
"While my work has always been contextualized within lung cancer
screening, it is really much broader than that and can be lifted out of that context, so to speak - and ultimately applied to any health decision" she said.
Already she's made inroads in working with oncologists from the John Theurer Cancer Center at Hackensack University Medical Center.
She is funded by four current National Cancer Institute grants. (She serves as a consultant on a fifth, in which the investigators are using the Lung Cancer Screening Health Belief Scales she developed as a measure for the study.)
Among those grants: support for a project "leveraging social media" for high-risk individuals eligible for lung cancer screening. It's a 5-year, community-based intervention trial using social media to target diverse geographic areas to increase awareness and knowledge related to lung screening. The goal is to recruit 500 screening-eligible individuals. Half will be randomized to receive LungTalk, Carter-Bawa's computer-tailored health communication and decision support tool for lung screening; the other half will also be randomized, receiving a non-tailored lung screening information video. The team will then follow them prospectively to assess lung cancer screening uptake.
It's the kind of work that she envisions making a difference - at the population level - at the Cancer Prevention Precision Control Institute.
"The goal is to build this into a world-class population-science program," she said.
The Hackensack Meridian School of Medicine, adjoining the CDI on the Nutley campus, will only complement what she envisions for the Cancer Prevention Precision Control Institute, she said recently. For instance, at the end of her very first day at the CDI, she gave a presentation on her work to the School, whose curriculum is focused on "social determinants of health" and community outreach. Before she had even finished her talk, she had already started receiving emails from interested students who were connecting with her message, in "real-time."
"The School and its mission, and the opportunity to work with them - that's a terrific opportunity," she said. "They're going to be great partners."
A Destination, and a Date, In Hawaii
Carter-Bawa brings a wealth of life and experience to the job. With what little free time she has, she finds time to travel, attend live comedy shows - and salsa dance, when the opportunity arises.
She grew up in Louisville, where her mother still lives. She has a younger brother, Jonathan, and his wife, Crystal, who live in Atlanta. She also has two children – a 22-year-old son Zachary currently finishing his computer science degree, and a 20-year-old daughter Gabriella who is a junior in college working toward a degree in Communications and Digital Marketing.
Carter-Bawa has another project she's working on, outside of work: a destination wedding in Hawaii in January. Her fiancé, an ear-nose-throat surgeon in Ohio, is Hindu, so it will be a full Hindu wedding, involving multiple days of celebrations and ceremony.
"It started off a small event and ended up with all the rituals and trimmings of a vibrant Indian wedding," she said.
Learn more about the Carter-Bawa Lab.
About the CPPCI
The Cancer Prevention Precision Control Institute (CPPCI) is a new institute at Hackensack Meridian Health housed within the Center for Discovery & Innovation that is developing a world-class population science program of scientists, clinicians, and key stakeholders in the community to connect science to practice to reduce cancer-related disparities in New Jersey.